About Us
In early 2007 the idea of a library was born, and by August of 2013 our doors were officially open. The Millvale Library was built from the ground up by a team of hard-working volunteers. Many of those volunteers are from right here in Millvale, and it's their generosity and their tenacity that keep us moving and growing today.
 Millvale Community Library is a powerhouse of local involvement. We work collaboratively with individuals and agencies to provide dynamic programming to patrons. We make decisions that are good for our environment, our economy, and our people. We invite insights and support from all over the country because every community deserves an exceptional space to learn and come together.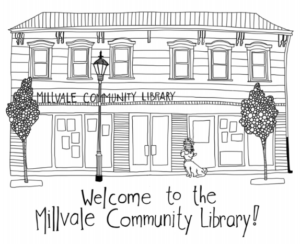 Our Mission:
More than a library – an agent of positive change.
Our Vision:
We envision a happy, informed, and engaged community.
Our Values:
Education: A library is a place to learn and discover, it is our duty to ensure that happens here.
Sustainability: Our duty to the community is to ensure we provide the best possible services and we must be financially healthy to do so.  A portion of operational costs are earned through renting apartment and office spaces. Our duty to the earth is to cause no harm.  We generate our own electricity, provide natural wildlife habitats, and provide educational opportunities for community members to learn how they too can practice sustainability.
Love of Community: We seek to serve the population already living in Millvale.  We take requests for materials and programming seriously, and partner with other local organizations to keep our finger on the pulse of the community.
Character Commitment: We foster the personal and professional growth of our staff, volunteers, and board members.
Our Policies of Inclusion
The Millvale Library does not and shall not discriminate on the basis of race, color, religion (creed), gender, gender expression, age, national origin (ancestry), disability, marital status, sexual orientation, or military status, in any of its activities or operations. These activities include, but are not limited to, hiring and firing of staff, selection of volunteers and vendors, and provision of services. We are committed to providing an inclusive and welcoming environment for all members of our staff, volunteers, subcontractors, vendors, and clients/patrons.
The Millvale Library is an equal opportunity employer. We will not discriminate and will take affirmative action measures to ensure against discrimination in employment, recruitment, advertisements for employment, compensation, termination, upgrading, promotions, and other conditions of employment against any employee or job applicant on the bases of race, color, gender, national origin, age, religion, creed, disability, veteran's status, sexual orientation, gender identity or gender expression.
Get Involved
Looking for a way to get involved?
Our little library runs on the support from community members and patrons like YOU, so consider donating today!
If you would like to inquire about volunteering, send an email to [email protected]!